While most members of the AHAC reside in the metropolitan Boston area, the Company has members throughout Massachusetts, and indeed the entire United States. Members are also deployed with the Armed Forces of the U.S. in several overseas locations. Interested applicants may contact the Armory. Download information on "Why Become an Ancient". Applicants must be sponsored by a member and applications submitted by said member. Presidents and Congressional Medal of Honor Recipients have been a part of the Ancient and Honorable Artillery Company of Massachusetts. Read more information below:
AHAC Ribbon

AHAC Lapel Emblem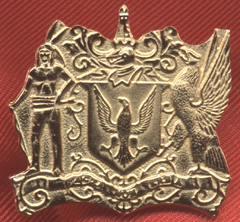 AHAC Membership Pin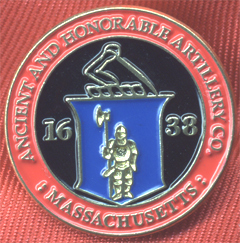 Honorary:
Conferred upon any person, U.S. citizenship not required, with the consent of the Standing Committee and affirmative vote of the Body.
Honorary, ex officio:
Conferred upon the Governor of Massachusetts as Commander-in-Chief The Adjutant General of the Commonwealth Massachusetts The Mayor of the City of Boston.
Regular:
Every active member, not qualified as a Life Member, shall be a Regular Member. A member must be of majority and a citizen of the United States. Regular membership is limited to 550 members. Regular Members must be invited to join the Company.
Life Member:
Every active member who has completed the requisite time and service requirements as prescribed by the Rules and Regulations of the Company shall be a Life Member. There is no limit to the number of Life Members.
Right of Descent Members:
Any member of the Company or any citizen of the United States who is a direct descendent member of the Company whose service dates back prior to 1738, upon verification of the line of descent, may apply for membership into the Company. Upon review of the application he may, by vote of the Body, become a non-voting member of the Company. If the ROD member resides outside of New England he is an inactive member.
Non-Resident Member:
Any member whose legal residence is outside of New England may request non-resident status as an inactive member. Although a non-resident member, he shall be liable to a special annual assessment.
Armed Forces Member:
Any member of the Company who is a member of the Armed Forces of the United States or the Commonwealth of Massachusetts serving on active duty for more than 90 consecutive days may apply for inactive status within the Company.
Past Commanders:
After a member has served as Captain Commanding of the Company he is considered a Past Commander and is accorded all the courtesies of his rank and status. The first Captain Commanding and the first Past Commander was Captain Robert Keayne, founder of this Company in 1638. Past Commanders wear mini gorget (see right).